For His Birthday, Pope Francis Gave a Special Gift to 400 Homeless People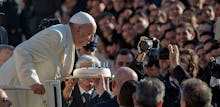 As it turns out, on the pope's birthday, he gives other people presents.
To celebrate turning 78, Pope Francis sent out Swiss guards and volunteers to distribute sleeping bags to homeless people in Rome. They gave out about 400, which were reportedly well made and came complete with hoods and the papal ensign.
Not the first time: Caring for the poor is a big part of Francis' legacy, and sleeping bags aren't the only thing he has given out.
Francis pushed for showers to be built for the homeless in Vatican City's St. Peter's Square and (rumor has it) snuck out at night to preach to them. He took his name from St. Francis of Assisi, revered for his treatment of the poor.
"Many of you have been stripped by this savage world," he told people during a lunch in Assisi last year. "[It] does not give employment [and it] does not care if there are children dying of hunger."
Given these previous dealings, Francis' birthday wish doesn't seem all that out of character, but it's still another admirable move nonetheless. Either way, his gift-giving didn't stop other people from celebrating his big day, which included a birthday cake and lots of mingling.
And what do you get for the pope who has everything? Tango dancing, it turns out.
h/t Huffington Post