Two Dudes Are Imitating Famous Works of Art on Instagram, and the Results Are Fantastic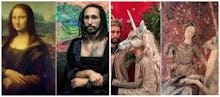 Artistic genius is rarely understood in its own time — except when it involves the Valencia filter.
Two Squarespace employees, Francesco Fragomeni and Chris Limbrick, are being recognized for their painting prowess after a joke went viral about the classic tourist trope of posing in front of works of art. It began innocently enough — "This whole thing really just started with us goofing around," they told the Washington Post — but soon morphed into something much bigger.  
After they sent Limbrick's mother a photo of their reenactment of Michelangelo's "The Creation of Adam," she sent back a split-screen version with Fragomeni and Limbrick's on top and Michelangelo's creation on the bottom.
Behold: 
After that, they told the Post, it clicked. They began re-creating all kinds of artwork, and so far they've posted 14 of the results on their Instagram account @foolsdoart. According to their Tumblr page, the only rules are that the props used must be found in the office and all editing must be done on an iPhone or an Android. 
Lest you think these two don't take their roles seriously, take a look at what they've been able to do so far: 
As for the variety of props — horse heads aren't commonly found in an office — the co-workers said they were simply lying around. "We actually have a few of those horse masks over here!" they told the Post. "Chris had one for Halloween and left it at the office. The unicorn mask has mysteriously been around for a long time." Other items seen in the photos include a blond wig, plastic bags used as dresses and a giant fern.
Even though it may seem like they're goofing off during work hours, both guys said that their bosses were cool with the idea. "It's definitely part of the fuel that keeps this going," they said.
Creative Instagram accounts are nothing new, but @foolsdoart is appealing because we probably all wish we could be doing things like this rather than actual work. Plus, who wouldn't want to work in an office that has unicorn masks sitting around?
If you're feeling artistic, the duo takes suggestions for what to do next.