Worst Person Ever Just Filed a Trademark for "I Can't Breathe"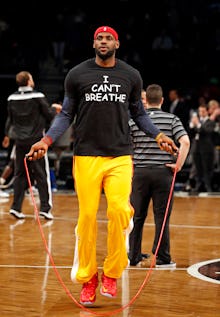 There's something uniquely despicable about profiting from the suffering of others. In the mind of one Illinois woman, it's the suffering of black people that's up for sale.
The same day thousands of protesters marched nationwide against the disturbing trend of unarmed black people killed by police, Catherine Crump filed to trademark the final words of Eric Garner, which have since become a rallying cry against police brutality: "I can't breathe."
Crump claims she's been using the phrase for commercial purposes since about Aug. 18. That's one month after Garner died, the result of an officer's chokehold during an arrest attempt — all because Garner allegedly sold untaxed loose cigarettes. Despite the coroner ruling it a homicide and video evidence that went viral, a grand jury did not indict the officer who killed him.
That horrific act of violence — where a husband and father of six was killed by a police officer utilizing an arrest technique that's been banned for more than two decades — didn't stop Crump from submitting a claim with the U.S. Patent and Trademark Office on Dec. 13. 
In an interview described at the Smoking Gun, Crump said she had "nothing to do with the Garner family" and had not been in touch with them about her trademark filing. The 57-year-old maintains it's not her purpose to make money from marketing "I can't breathe" merchandise, but did not specify any other reasons for submitting the claim, which cost her a $325 filing fee.
Something about this just doesn't add up. It's one thing to make a protest sign with such a phrase, or create clothing with it as a means of individual expression, and it'd be a different story if the clothing were made for philanthropic purposes, especially with the family's approval. But filing a trademark claiming the phrase "I can't breathe" and merchandise bearing it in exclusive legal ownership puts a sticker price on the death of a human being.
That's neither altruistic or charitable. It's just exploitation. 
The filing is a pathetic attempt at appropriating and claiming ownership of one man's dying words, playing on heightened emotions and racial tensions to make a buck. As many black people reel from the painful news of recent months — including a non-indictment in the shooting of Michael Brown in Ferguson, Missouri — one would imagine it unthinkable to profit from others' grief.
But this isn't the only instance of injustice related to "I can't breathe" merchandise. As reported by the Washington Post, T-shirts worn by some NBA players at recent games were purchased and delivered to players without the knowledge that the manufacturing company operates factories with sweatshop conditions. Gildan, a major worldwide clothing business, pays workers as little as $6 a day to produce a variety of garments, per the report. 
It's understandable that many people want to express their outrage, anger and viewpoints, whether through marching or through clothing that makes a statement. But any retailer or business swooping in needs to consciously ensure their actions don't capitalize on other's suffering — whether it's a worker in Haiti or a grieving family in New York.