The Justice Department Just Announced a Big Step Forward for Transgender Rights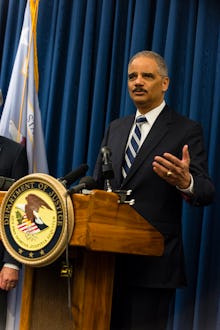 Transgender workers are now protected from discrimination by the federal Civil Rights Act, Attorney General Eric Holder announced Thursday.
It's a reversal on the part of the Justice Department and welcome news for transgender activists. Because it's simply a different interpretation of the law already in place, there's no need to pass any new legislation.
"This important shift will ensure that the protections of the Civil Rights Act of 1964 are extended to those who suffer discrimination based on gender identity, including transgender status," Holder said in a statement. "This will help to foster fair and consistent treatment for all claimants. And it reaffirms the Justice Department's commitment to protecting the civil rights of all Americans."
The background: In 2006, under President George W. Bush's administration, the Justice Department said that transgender workers were not included under the Civil Rights Act's sex-based discrimination ban.
Holder wrote that the federal government's approach on the issue had "evolved over time," echoing phrasing often employed by President Obama to describe his views on gay marriage.
While this means that the Justice Department will be able sue state and local public agencies that discriminate, workers at private companies won't have the same protection. As Holder noted, the Justice Department "does not have authority to file suit against private employers."
Clearly, there's still work to be done. But considering the Justice Department's stance less than a decade ago, this still represents a step forward.
It's a step in line with other progress made by the Obama administration in supporting transgender Americans. The president issued an order earlier this year protecting gay and transgender employees of the the federal government or any contractors doing business with the federal government, and the Department of Education has counted transgender protection as part of the Title IX law against sex discrimination, according to the Associated Press.
Further progress will likely require action on the part of state governments, Congress or the courts. Full equality could be a drawn-out, potentially messy process, but little victories like this one help move things along.
h/t Slate