We Need Aretha Franklin's Powerful Voice on Race in America — Now, More Than Ever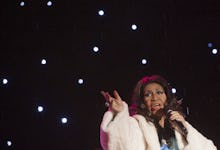 While introducing Aretha Franklin at Billboard's Women in Music event last week, music industry legend Clive Davis said of her, "We all know that centuries from now they'll still be listening to and studying her records — her voice." 
It may sound cliché, but the truth of Davis' words was profoundly reflected in the other attendees to the high-powered event. Beyoncé, Idina Menzel and Jessie J were all in attendance — each woman boasting a career and style that would not have been possible without Franklin.
Davis presented Franklin with Billboard's Icon of the Year award. She adds it to an already stellar list of honors — awards that recognize her contribution to social equality for women and black people alike.
Franklin was the first woman to admitted into the Rock and Roll Hall of Fame in 1987. She's received 18 Grammy Awards, a Grammy Lifetime Achievement Award and a Grammy Legend Award. Earlier this year, she became the first woman to have 100 songs chart on Billboard's Hot R&B/Rap chart. She was among the earliest appearances of a black woman on the cover of Time magazine. She's sung at the inaugurations of three presidents — including Barack Obama — and in 2005 she received the Presidential Medal of Freedom.
Of America's biggest stars, Franklin's music has had one of the broadest cultural impacts, stretching far beyond the music world and into politics and society. Her powerful, soaring vocals helped drive two of our country's biggest cultural movements — the civil rights and women's movements. And these are troubled times for the legacies of both. We need Franklin's example now more than ever.
Franklin's role in inspiring the women's liberation movement has been touted by biographers and journalists throughout her decades-long career. She downplayed her influence in a recent Rolling Stone interview, modeling what genuine humility in activism looks like. "I think that's Gloria Steinem's role," she said. "I don't think I was a catalyst for the women's movement. Sorry. But if I were? So much the better!"
Steinem's writing may have brought us the necessary theory, but Franklin's music captured the feeling and presented it to the public at a time when ideas of equality for blacks and women weren't entirely mainstream — let alone equality for a black woman. It helped women actualize feminist principles into their own lives.
"'Here's a sister who ain't taking no mess,'" NPR commentator Evelyn C. White remembers thinking to herself the first time she heard Franklin's "Respect." "[Franklin] made me feel good about myself, both as a black American during a tumultuous political era and as a young girl about to discover sex."
Franklin's "Respect" is a cover of an Otis Redding tune. But it took on new meaning in her voice.
"Aretha characterized respect as something given with force and great effort and cost," poet Sherley Anne Williams once said of the song. "She even went so far as to spell the word 'respect,' we just knew that this sister wasn't playing around about getting respect and keeping it."
"Respect" put Franklin at the center of the civil rights movement, and made her one of its most recognizable female icons. Her presence caused women to come out to support the movement with new fervor.
Franklin recorded several more civil-rights anthems. She covered Elton John's "Border Song," connecting it to the struggle for black rights, and "Young, Gifted and Black" by Nina Simone for an album by the same name. Franklin described it as her most "personal" to date when it came out in 1972.
Throughout the '60s, Franklin also worked closely with the Rev. Martin Luther King Jr. and traveled with him to sing at many of his events. She sang "Take My Hand, Precious Lord" at the dedication of the Washington, D.C., memorial to King in 2011. She said the song was one of King's favorites, and one he asked her to sing when they traveled from event to event together.
Franklin recently spoke about her relationship with King, saying he was "a man of class, integrity and great courage." She said the timing of the upcoming film, Selma, could not be better.
"I think that it's gonna bring a higher level of consciousness to everything that's happening, particularly between the movie and Ferguson and all of the different happenings that we've had lately involving all of the young African American men," she said. "There is certainly a correlation between the two ... what was happening way back then, and what is still happening now."
Franklin showed that music can have a cultural impact that stretches far beyond music. She's the type of musician we need to be celebrating as we continue the battles that the civil rights and women's rights struggles started.
Every artist wanting to use music to make a difference should study Franklin. There's so much there to learn — and so much we still need to learn.