A Church Fired a Man for Being Gay. Then Its Members Did Something Truly Christian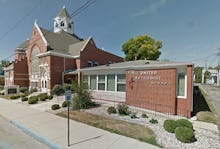 A church closed its doors to a gay man — so its congregants closed its doors for good.
In January, the members of the First United Methodist Church in Alexandria, Indiana, were embarrassed and angered to discover that the church's new minister forced its popular choir director to resign for being an out gay man. When a lay leader in the church voiced his opposition to the move, he was also fired.
That's when the church's members decided to do something truly Christian: They walked out.
More than 80% of the church's members left after the firing, and now David Mantor, the church's unpopular pastor, has announced that the church is closing up shop for good. "This closure is not due to that situation whatsoever," Mantor told the Herald-Bulletin, but due to falling attendance, membership and financing problems. You know, the kinds of problems that happen when four out of every five congregants leaves your church.
The United Methodist Church states that gay men and women are welcome to become members, but that "the practice of homosexuality is incompatible with Christian teaching." Any "self-avowed practicing homosexuals" are forbidden from serving as ministers, but it's ambiguous whether they're allowed to serve in non-ordained capacities.
Danielle Steele, the daughter of the former lay leader, told the Raw Story that donations had plummeted since congregants left the church. "This church is closing precisely because of David Mantor, precisely because of the issues surrounding gay rights in the church," Steele said.
These congregants show what it truly means to live your faith. As Christmas draws near and church attendance rises, this is a perfect reminder that the true spirit of the season is inclusion and love. When a church fails to live up to that message, it's not enough to ask the leaders to live up to the true teachings of their faith. As the people in this rural Indiana town learned, it takes action.