Ferguson Prosecutor Made a Startling Admission That Could Reopen the Darren Wilson Case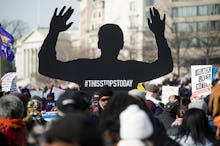 The news: On Friday, St. Louis County prosecuting attorney Robert McCulloch made a startling admission about his role in the grand jury process that did not charge police officer Darren Wilson in the death of unarmed black teenager Mike Brown.
McCulloch admitted that he knowingly let a woman who "clearly wasn't present" at the scene testify before the grand jury, throwing more doubt over a decision already questioned by tens of thousands of protesters nationwide.
The witness in question is likely Sandra McElroy, the "Witness 40" who testified she saw Brown charging at Wilson "like a football player, head down" before Wilson shot Brown. A recent investigation by the Smoking Gun revealed that McElroy has untreated bipolar disorder, a history of racist remarks and that she wrote in her journal that she was in Ferguson that day to "stop calling Blacks N****** and Start calling them people." According to the St. Louis Post-Dispatch, she has admitted to trying to raise funds in Wilson's defense.
The admission: In the clip below from McCulloch's interview with St. Louis radio station KTRS-AM, McCulloch says that he let a witness testify before the grand jury despite the fact that she was "not telling the truth." Take a listen:
In short, McElroy doesn't appear to have been a credible witness. But the grand jury that cleared Wilson heard her testimony twice, leaving an indelible stain on their decision. McCulloch has insisted the grand jury's judgment wasn't tainted by her inclusion, but there's no way to tell whether its members discussed McElroy's testimony while making their decision.
"It's a legitimate issue. But in the situation — again, because of the manner in which we did it — we're not going to file perjury charges against anyone" despite possible federal offenses, McCulloch says in the clip.
McElroy, however, was not the only person who was obviously lying. McCulloch explains that, "I thought it was much more important to present the entire picture and say listen, this is what this witness says he saw," even when the witnesses' testimony contradicted observable facts.
This is a problem: Experts have attacked McCulloch before for his shoddy work presenting evidence that Wilson murdered Brown, with some going so far as to accuse the prosecutor of deliberately throwing the proceedings in Wilson's favor. Now with his own admission that liars were presented to the grand jury, criticism of its decision will likely redouble. What's more, ThinkProgress' Judd Legum reports by presenting false testimony to the jurors, McCulloch may have actually "committed a serious ethical breach." 
According to Legum, McCulloch's admission may be enough to demonstrate to a judge that a new prosecutor needs to be put in charge of Wilson's case. While it's unclear if this will happen or if there's enough evidence to reopen proceedings, what is clear is that a full trial, rather than just a grand jury, would have likely been beneficial.
h/t ThinkProgress