Watch the Brilliant 'SNL' Christmas-Themed 'Serial' Parody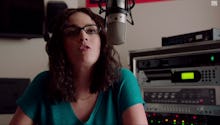 What better way to celebrate the holiday season than with a spot-on Saturday Night Live parody of one of the most talked-about podcasts of all time?
Taking a crack at Serial, the extremely popular true-crime podcast, SNL star Cecily Strong and company reimagine the podcast by looking at the mysterious case of Kris Kringle and how his presents miraculously end up in the homes of millions of children around the world. 
Take a look:
The parody is rich with satire. It compares Kris Kringle to convicted killer Adnan Syed and Kringle's lawyer Adina Hernandez to Syed's defense attorney, Cristina Gutierrez. And it hilariously recreates the steps of the crime; Strong goes so far as to try to build a flying sled with her producer. 
Plus, these interviews with Kringle are just absolutely hilarious:
Happy holidays indeed.
h/t Slate