The Disturbing Last Words of the Gunman Who Executed Two New York Police Officers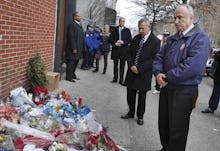 Ismaaiyl Brinsley, who ambushed and "executed" two NYPD officers while they were sitting on their squad car on Saturday, reportedly approached bystanders on the street minutes before opening fire and asked them to "watch what I'm going to do," according to Chief of Detectives Robert Boyce.
Editors Note: Mar. 2, 2015 
An earlier version of this article cited Associated Press reporting, but did not include quotations around the cited passage. The story has been updated to fully attribute the Associated Press' language.