You May End Up Seeing 'The Interview' After All, Thanks to Anonymous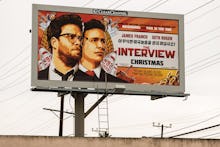 The Interview won't hit box offices anytime soon. But hacker collective Anonymous tweeted on Friday that it plans to leak the Seth Rogen and James Franco vehicle, which Sony Pictures pulled following threats from Guardians of Peace (a hacker collective with links to North Korea).
Sony announced last week that it was not going to release the controversial comedy, which depicts the assassination of North Korean leader Kim Jong-un, following unspecific threats of "9/11-style attacks" at movie theaters and ongoing disclosures from the massive cyber-attack on the company that resulted in leaked emails and salary details. 
Anonymous criticized Sony for being so easily swayed by cyber threats — an ironic standpoint from a group infamous for online vigilantism:
Anonymous isn't the only one to question Sony's decision to back down. Even President Barack Obama agreed Friday that Sony had "made a mistake" by giving into North Korea's demands for censorship. 
Leaking the film wasn't Anonymous' first response either. The group initially tried to reach out to Sony CEO Michael Lynton. Mashable reports that the group sent Lynton a message urging Sony to "release The Interview as planned" or the group will "carry out as many hacks" as possible.
Sony didn't step up to the plate, so Anonymous did. The consequences of the potential leak for Guardians of Peace and Sony are unclear, but at least we'll all finally get to see the movie.