Someone Tried to Leak Madonna's New Songs Last Week — But She Wouldn't Stand for It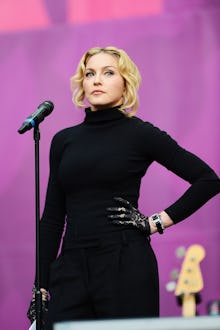 When six unfinished Madonna songs leaked online last week, she wrote a furious (and since-deleted) Instagram post comparing the release to "artistic rape" and terrorism, adding: "Why not give me the opportunity to finish and give you my very best?"
For Madonna, the issue wasn't about the theft so much as it was about someone denying her the chance to express her complete artistic vision. But the pop legend didn't stay down for long. Though she came out a bit too forcefully at first (the artist later apologized for comparing the leak to an act of terrorism), she turned around within just a few days and proved that her commitment to artistic integrity was stronger than ever. In place of the leaked files, she gave fans something more tangible and awesome: She released high-quality versions of six songs, packaging them in an EP called Rebel Heart.
"I would prefer my fans to hear completed versions of some of the songs instead of the incomplete tracks that are circulating," Madonna said, describing the release. "Please consider these six songs as an early Christmas gift."
The songs show Madonna stretching into some striking alien territory. "Bitch, I'm Madonna" features production from EDM artist Diplo and a verse from Nicki Minaj. Electronic musicians Avicii and Blood Diamond contributed some writing and production to "Devil Pray" and Kanye West masterminded the dark and cryptic "Illuminati."
The songs still feel as if they're in progress, but Madonna is setting a bold standard for how artists can reclaim control over their own work after leaks. Rather than let someone steal her new music, she trumped the move with the kind of output her fans have come to expect — and they were extremely grateful.
"Thank you for not listening!" Madonna wrote to her fans, "Thank you for your loyalty! Thank you for waiting." Samples from Rebel Heart are a fitting reward. All the moreso because it points to a release of the complete album early next year.
h/t Guardian