2014 Was the Year Charli XCX Became the Star She Was Always Meant to Be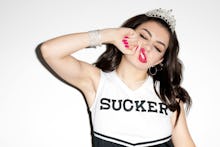 British singer Charli XCX has been almost-a-pop-star for almost eight years.
She nearly caught a break when she became famous for singing undeniably great hooks — her chanting on Icona Pop's "I Love It" helped propel the song into the double-platinum, 2-million-copies-sold anthem of the decade. Then, her hook on Iggy Azalea's "Fancy" made the song the monster hit of last summer. And Charli XCX even helped write "OctaHate," the song that made Ryn Weaver an overnight sensation. Yet during all that time, she was never a pop star in her own right, stuck playing in smaller theaters on bills with other bands.
But as 2014 comes to a close, the most underrated singer in pop is finally getting her due. It started with "Boom Clap," a song that burned a hole in the Billboard charts and the soundtrack to The Fault in Our Stars. It culminated last week with the release of Sucker, the album that shows Charli XCX has finally arrived.
Charli XCX has worked hard her whole life. After being discovered and signed by Atlantic Records at age 14, it seemed as if Charlotte Aitchison, aka Charli XCX, had it all figured out. Her father had already helped her produce her first album, 14. It never totally came to fruition, but it was her Lily Allen-esque EP Art Bitch that caught the attention of a party promoter through her Myspace page, and then, in turn, the label.
Her relationship with Atlantic was tumultuous. She took a break from recording and didn't agree to meet with producers until she was 16, and when she did, she realized that the music she wanted to make was not the bubblegum pop-machine kind that would lure the masses. She met with producer after producer, including Ariel Rechtshaid, the Grammy Award-winning producer and songwriter behind Plain White T's "Hey There Delilah."
"The label was confused," he told Grantland. "They were like, 'This is clearly awesome, but it's nothing like what we've been working on for the past couple of years.'"
Charli XCX didn't easily fit a mold, and so she remained in obscurity. When Charli XCX finally did get recognition, a few years later, it was for singing the hook on "I Love It," which she also wrote. Her album released last year, True Romance, and the hit couldn't coexist. As Grantland put it in its examination of her fame, "nothing on True Romance would be allowed near the club while 'I Love It' is in there holding down the VIP." Charli XCX had been shunted again.
But this year, Charli XCX blossomed into a star in her own right. Her outsider status became her power. It started when she proved herself to be an unapologetic, feminist voice in an industry that tries to disparage women musicians. Earlier this year she spoke out against people — including feminists — who try to create strict definitions of how feminists should act and judge others for "not being feminist enough." She argued that this is yet another way women are pitted against each other.
"[T]he whole thing becomes pointless when people are telling people that only certain people can be feminists. 'You have to dress like this to be a feminist, you have to be a woman to be a feminist, you can't be a man and be feminist, you have to be like this,'" she told Cosmopolitan. "I just feel that really holds back any kind of progress." 
That was the stand that signaled that the pop star was growing into an unapologetic version of herself. Like many women in music before her (and her contemporaries as well), many people criticize her style, calling it "racy" and inappropriate. But unlike singers and rappers such as Nicki Minaj and Katy Perry, who have come under the same fire and haven't said much about it, Charli XCX is clear that women "should be able to do what the fuck they want" — including with their wardrobe. That outlook freed Charli XCX to break the rules of pop and release the songs she wanted.
Instead of molding herself into the musician that her label may want her to be (many artists have said it's hard not to), "I basically just told my record label to fuck off," Charli XCX told Cosmopolitan. "If you want a puppet, just go and get yourself a puppet. ... I told them that from very early on, and I said I was never going to have a conversation with them about anything like that ever again." 
"Boom Clap" was the first time Charli XCX had a big hit that was all her own. Where the credit for "Fancy" went to Azalea and to Icona Pop for "I Love It," nobody can take Charli XCX's new singles from her. And her new album is getting excellent reviews.
This is the moment Charli XCX has waited for since she was a teenager. She finally has the platform she needs to change the game, both musically and socially. And there's little risk that she'll become another music industry "puppet." This time, we're all playing by her rules.