Hip-Hop's Huge Problem With Iggy Azalea Just Blew Up — And She Completely Deserves It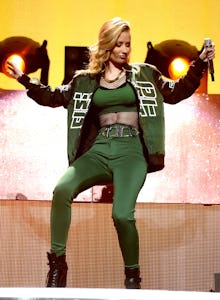 When Forbes declared in May that "Hip-Hop Is Run by a White, Blonde, Australian Woman," they quickly realized their mistake. Yet in the months since, that mistake has come to seem like a sick prophesy: Iggy Azalea has, in fact, run the rap game from a numerical perspective. She has made history by shattering records. She released a platinum single. She snagged fistfuls of Grammy nominations. 
And this weekend, she lit a fuse on the powder keg of race issues in hip-hop. The whole hip-hop community has finally taken Azalea to task for building her career by stealing black musical sounds and styles and using her whiteness to sell them to the masses. In the process, she has done little to actually give back to the hip-hop community except be flagrantly offensive. And black hip-hop artists aren't standing for it any longer.
How did it start? Azealia Banks was one of the first to call her out on this. Originally, Banks slammed Iggy for ignoring black issues in the wake of Ferguson and Eric Garner, dubbing her "Igloo Australia." Banks is noted for her Twitter outbursts, but just a little while later, J. Cole gave an interview in which he explained that hip-hop would become a white genre in 20 years, citing Azalea as a mark of that change. Banks resumed her public criticism of Azalea just this past weekend, but suddenly she wasn't alone anymore. 
That's partially because Azalea fired back at her with comments that outraged many in the hip-hop community — she denied that hip-hop is fundamentally political music:
And she showed her own total lack of awareness by pointing out that her feud with Banks is probably the means by which most people in the mainstream are currently discovering Banks:
It turns out many people in the hip-hop community feel that Azalea is actively working against black interests because she appropriates traditionally black styles and totally divorces them from their political content. That's why rapper Tyler, The Creator, A Tribe Called Quest's Q-Tip and R&B singer Solange Knowles all came to Banks' defense, thanking her for speaking openly and passionately about the issue of cultural appropriation. Kreayshawn also stepped up to the plate, accusing Azalea of ignoring racism in her home country as well as in America.
But it was New York-raised hip-hop legend Q-Tip who had the most inspiring response — he gave Azalea a full hip-hop history lesson in 40 tweets.
Hip-hop is always political. Q-Tip took the Twitterverse all the way back to hip-hop's very beginnings. He described the conditions black people were living under in 1970s New York, which hip-hop sought to address. He cited Vietnam, the rampant drug trade in New York's ghettos and their crumbling school systems. These factors, crippled children's support structures, "emasculated" their parents and forced children to turn to the streets and gangs for support.
But thankfully, hip-hop was born. With it, youth found a direction, and a way to channel their energies in a positive direction.
"Hip-hop is fun," he said, "but one thing it can never detach itself from is being a sociopolitical movement." He described other hip-hop milestones, and revealed how black rappers are mistreated by the industry — how the music industry encouraged black rappers to rap about "being criminals or uneducated" as a way to sell records. That legacy is precisely why Azalea, as a white woman capable of making traditionally black-sounding music, sees such extreme success when so many talented black rappers go unnoticed.
But not everyone was against Iggy Azalea. After Q-Tip finished, T.I. — Azalea's label boss and biggest supporter — took to Twitter for his own rant, defending her.
T.I. agreed with Q-Tip's facts, but argued that his points encourage an "'All White People Wanna Steal Our Shit' mentality." He ended on a positive note for Azalea:
Just most people. That, in turn, provoked a viral hashtag, #WhenTipTweets, skewering T.I. and Azalea.
It may seem mean, but she completely deserves it. Azalea has been manipulating hip-hop culture for her own gain, and she cares not at all for the broader hip-hop community or the music's place in our culture. She's taken hip-hop's sounds, but hasn't given back to the culture in any meaningful way when many white rappers have done the opposite. Macklemore has showed support for Ferguson protesters. Action Bronson passed judgment on the Eric Garner ruling, calling it "disgusting."
The Iggy-centered Twitter war has brought attention to a key issue in the genre, one that stretches beyond race. As hip-hop becomes more mainstream and commodified, it cannot lose its revolutionary origins. Hip-hop artists need to use their exalted social platforms to speak out on social and political issues important to underprivileged communities. Otherwise it will only become empty dance music, with none of what makes it a vital art form.
Azalea herself has yet to tweet anything since Q-Tip took her to school. But when she does, we can only hope she'll have learned what hip-hop really means.