The Man Behind One of the Greatest Voices in Rock History Just Died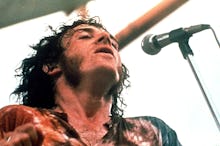 Legendary English rock and blues singer Joe Cocker died Monday at the age of 70 after a long battle with lung cancer.
Perhaps best known for his 1968 cover of the Beatles' "With a Little Help from My Friends," Cocker rose to prominence in the late '60s with his covers that turned songs into towering classics and a gritty, soulful voice that came to define an era of British and American rock.
Cocker's management team confirmed news of his death, while his agent Barrie Marshall told the BBC "it will be impossible to fill the space he leaves in our hearts," adding Cocker was "a kind and humble man who loved to perform."
"He was without the doubt the greatest rock/soul voice ever to come out of Britain and remained the same man throughout his life. ... Anyone who ever saw him live will never forget him," Marshall said.
Cocker's live performances were legendary, often marked by his spasmodic and energetic body movements — moves that made any song come alive. In fact, they were so well-known that John Belushi parodied the singer's motions right next to him during a performance of "Feelin' Alright" on Saturday Night Live in 1976.
Though some might argue Cocker's musicianship was somehow diminished because he wrote little original material, nothing could be further from the truth. Like Frank Sinatra, Elvis Presley and Aretha Franklin — or any number of modern pop stars — Cocker was rarely the original author of his material, but he was often a song's definitive singer.
Cocker had an unprecedented ability to find the rawest, most forceful version of any song and bring it to life. He took this version of "With a Little Help from My Friends" and turned it into the centerpiece of the legendary 1969 Woodstock music festival. His cover was so iconic that it became the theme song of the popular ABC show The Wonder Years, which aired from 1988 to 1993.
The music world is devastated by the news of Cocker's death. Though his fame has faded in recent years, his legend is untarnished. He lived a life as hard as his voice was gritty.
But the fact remains that the man behind one of the greatest songs about friendship was a friend to anyone who listened to his music. That's a mighty legacy to leave behind.