This Is What Real "Native American Fashion" Looks Like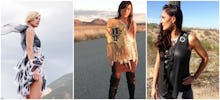 Say the words "Native American" and "fashion" in the same sentence, and the first images that pop into your head are likely the least accurate: headdresses, fringes and moccasins. Such items — blithely adopted by celebrities and concert-going teens, but especially the fashion industry — are wildly popular, but for all the wrong reasons.
Non-Native American celebrities have been gleefully but ineptly trying to copy this style at Coachella for years (Khloe Kardashian even brought the inspiration home with her for North West's "Kidchella"-themed birthday). But it's the fashion industry that's consistently guilty of appropriating Native American fashion time and time again: from Elle UK putting a headdress-clad Pharrell on the cover to H&M selling feathered headdresses; from Urban Outfitters' continuous use of "Navajo" print to Karlie Kloss walking the 2012 Victoria's Secret runway in a headdress and suede bikini; from Paul Frank throwing a "Dream Catchin'" party to Chanel marching models down its pre-fall 2014 runway in feathers. You get the point. 
The public and media are quick to criticize companies and designers for carelessly appropriating cultural attire. But rarely do we offer positive examples of what Native American fashion can be today.
So what does positive, non-offensive Native American fashion actually look like? We called Jessica R. Metcalfe, Ph.D. and creator of Beyond Buckskin, a blog focused on Native American fashion, plus an online boutique of the same name, at her home base in North Dakota for a nuanced take on the Native American fashion landscape today.
Mic: We tend to only talk about Native American culture and identity when there's a new policy or, unfortunately, a controversy. Beyond Buckskin highlights neither. How did the blog come to be? 
Jessica Metcalfe: The blog started in 2009 out of my research as a doctoral student at the University of Arizona. I was writing my dissertation on Native American designers of high fashion, who were handing over these photographs and telling me their stories. I wanted to get these artist interviews out to a broader audience. 
The boutique launched in 2012 when I was starting to write about issues of appropriation. The Urban Outfitters versus Navajo Nation case had just become a big deal, and I was telling my readers to, instead of buying the knock-off, buy the real thing from Native American artists. And at that time, around 2011 and 2012, there wasn't one place you could access Native American fashion from a variety of artists. So I decided to create that space.
When we say "Native American fashion," are we referring to things designed by designers of Native American heritage or descent? Are we talking about fashion itself that has a certain look? 
JM: For the blog and the boutique, it's designers who are Native Americans or of Native American descent — it doesn't matter what they produce. Some of it's going to look a lot more "Native," [like] the expected look with fringe or feathers or geometric designs. Then other designers are from a tribe that doesn't do that traditionally, so their work is very different. And that's part of the education mission of Beyond Buckskin, is to let people know that it's not just the stereotypical thing. There's a variety. Then there are also designers whose work doesn't look obviously Native, like Patricia Michaels, who was on Project Runway and who draws on her traditional Pueblo background in a more concept-based way. Her visibility helped educate more people.
When it comes to Native American fashion, what are the main things that people need to be educated on?
JM: The main things have to do with stereotypes. This is something that we're constantly battling — the stereotypes and expectations of what our people are. And that's coming out of Hollywood, and it has to do largely with lack of education in elementary schools. I feel as though people are genuinely interested in Native American culture, but it's just not being provided to them in the regular venues of our educational setting. And so they find it movies that play off of the stereotypes. 
Another big issue is appropriation. What is the distinction between appropriating and someone saying, "I just want to buy this great outfit, even though I'm not Native American"? 
JM: It's not a black and white line. It gets very complicated and fuzzy. One thing that we battle, for example, has to do with the headdress, and that's because it's a sacred, important symbol to us. And it's still a tradition that is practiced in our communities. That is something we hold on to dearly, because we face so many struggles, a big one of which has to do with our youth. A lot of young people grow up disconnected from their community, and they look to celebrities as role models. And whenever you have celebrities or major companies misusing the sacred headdress, that is a direct way of destroying our culture.
Besides that, when it comes down to appropriation, it's important if you are, for example, an artist who is inspired by Native American traditional designs, that's great — but you have some creativity of your own, and you should exercise that, so you're not just doing a direct knock-off or copy. Do some artistic rendering on your own, and that way it will lead to this idea of being inspired versus copying.
If you're just a regular person who appreciates Native American design, I push for buying from Native American artists, particularly those artists who are connected to their communities and who know what sacred items or symbols should never be for sale. When you buy something at a place like Beyond Buckskin, it can be appreciated by people from all backgrounds, regardless of if they have any connections to Native people or communities. 
"Whenever you have celebrities or major companies misusing the sacred headdress, that is a direct way of destroying our culture."
How should fashion designers go about design if they're inspired or want to incorporate Native American influences but aren't Native themselves?
JM: I'm on a kick for collaborations right now. When you're working with an individual on a collaboration, then you can learn a lot more of the nuances, like the differences between the communities. Plus you come up with more authentic, original designers coming out of collaborations. If designers are interested in creating collections, then collaborate with a Native American artist or designer, because there are a lot of them out there doing extraordinary work.
What are the visual signatures we can expect to see in authentic Native American design, and who are the major designers out there?
JM: The designers for Native American fashion, there's Patricia Michaels and Dorothy Grant, who have been around for decades. Then there are other designers who are up-and-coming — I'm constantly finding out new designers, and I try to profile those different artists on my blog so people can learn about the artist behind the designs. Those include Nathalie Waldman and her fringe leather bags, Alano Edzerza from the northwest coast who's producing some of the freshest streetwear. Then there's Jared Yazzie, who does our "Native Americans Discovered Columbus" T-shirts that people just love for how simple and poignant they are.
For positive examples of Native American style signatures, I would say bead work is something we're well-known for, which is beautiful. Our geometric designs and even our floral work is also gorgeous. We've had designers who play off of the usual stereotyped stuff — the feathers, the fringe, turquoise — and produce just absolutely amazing designs, things that are looking outside the box but still playing with those materials.
"Buy from Native American artists."
How can high-end fashion and mainstream retailers improve and better understand the nuances when it comes to Native American fashion, besides for blogs like yours?
JM: There are things happening in small ways. For example, Elle Canada wrote an article about these issues and quoted both myself and artist Adrienne Roy-Keene in the article, which was really cool. If a fashion magazine can write even a small article about these issues, that's a great way to get out to a broader audience. 
There is also a tiny movement — and I'm talking one or two professors — who are trying to get either a class or symposium together where we can talk about these issues to design students, as a way of looking at the next generation at designers who are coming up and heading that off at the pass, so to speak.
For a regular shopper who wants to buy something Native American or Native American-inspired at a store, what should they be keeping in mind — besides maybe not shopping at Urban Outfitters?
JM: Think about your purchases investments. Do you want to invest in a company that has no connection to Native people but is selling their designs and profiting off of it? A lot of these big companies like Urban Outfitters are very unethical businesses — in general, not just with Native people, because they don't care who they offend. Or do you want to invest in a company or a business that promotes individuality, artistic creation, rarity, uniqueness and really continuing ancient legacies?