34 Years Later, Bob Marley Is About to Make History One More Time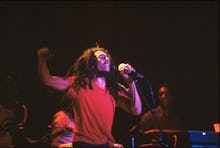 In June 1975, Bob Marley told the world his music would never die.
"My music will go on forever," he said. "Maybe it's a fool say that, but when me know facts me can say facts. My music will go on forever."
He was right. More than 30 years after his death, Marley is still the voice of our generation. Next year will prove it: His family is letting Universal Music Group enter Marley's vaults to dig through unreleased music and videos. And it'll be available to the world in 2015. 
Marley, who died in 1981, would have turned 70 on Feb. 6. To celebrate his life and legacy, the Marley family decided it was time for fans to have access to Marley's B-sides, concert footage and photographs. First up is a never-before-released live concert CD/DVD Easy Skanking in Boston '78. It's slated to come out Feb. 10. And way more will follow.
The Easy Skanking concert footage will be a fitting start; it's legendary. It comes from a June 8, 1978, show at the Boston Music Hall on a tour supporting the album Kaya. The set list included material from the album, mixed in with some of the Wailers' classics like "No Woman, No Cry," "I Shot the Sheriff" and "Get Up, Stand Up."
New live Marley footage is more important now than ever. He was a master at blending social and political consciousness with universally accessible music. No musician has been able to use their music to inspire hope in the downtrodden and spread awareness on the same scale since. And our musical culture desperately needs someone who can pull it off.
It's fitting, too, that this particular release should come so soon after Marley's birthday. The date is a huge celebration in many parts of the world — it's memorialized with holidays in Jamaica, New Zealand, Toronto and the Rastafarian religion. 
2015 will be one of Marley's biggest birthdays yet. That's because, even though he's long gone, Marley's spirit remains one of the most essential parts of our musical culture. And it's about to be revived once again.