Australians Are Fighting Back Against Tony Abbott's Asinine Comments With #ThanksTony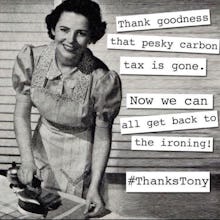 Australia's Prime Minister Tony Abbott — aka "Tony Dum Dum" and the country's self-appointed Minister for Women — says his greatest success on behalf of women is the repeal of the nation's carbon tax.
Umm, what?
Forget trying to close the wage gap between men and women, institute longer maternity leave and address the sexual assault epidemic throughout Australia. Apparently, the best thing Abbott has done for women is a byproduct of killing the environment.
In an interview with Australian TV show Today, Abbott explained his sexist logic, which sees women's place squarely in the home. "As many of us know, women are particularly focused on the household budget, and the repeal of the carbon tax means a $550-a-year benefit for the average family," Abbott said. 
Not only did the carbon tax save women a few dollars on household expenses, that carbon-filled air must be like an invigorating facial for the skin to keep women looking young and fresh for their men, right Tony?
This statement is not only illogical, it reflects Abbott's hypocrisy. Abbott's sexist comments — from claiming that women are natural homemakers rather than leaders, to controversially saying that men have a "right" to "demand" sex from women — are well-documented. There's even a Change.org petition trying to get him removed from his Minister for Women position.
#ThanksTony: But Aussie women have had enough of Abbott's crap, and, with their trademark larrikin — or jokester — spirit, they have taken to Twitter to "thank" him in the best way possible:
h/t ThinkProgress