The Columbia Student Accused of Raping "Mattress Girl" Emma Sulkowicz Finally Speaks Out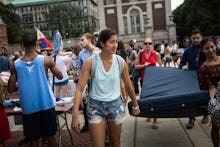 The Columbia University student accused of raping Emma Sulkowicz, aka "Mattress Girl," has finally spoken out in his own defense.
In a Dec. 21 interview with the New York Times, Paul Nungesser publicly declared his innocence and attempted to reposition himself not as a sexual predator but as a victim of bullying.
Not an isolated incident. In addition to Sulkowicz, two other women have accused Nungesser of sexual assault: one, of following her at a party and groping her until she fought him off, and another, of "multiple episodes of 'intimate partner violence' — emotional abuse and nonconsensual sex during a months-long relationship," according to the New York Times.
All three women filed charges within days of each other. Unsurprisingly, Nungesser has insisted the charges are not the result any wrongdoing on his behalf, but rather of collusion. In other words, the three accusers conspired against him to smear his name and reputation.
From accused rapist to victim. In an interesting twist, Nungesser not only denied the groping incident and shrugged off the intimate partner violence accusation, he also suggested that such incidents rarely happen at all. "Outside of a forced marriage or kidnapping, it just seems very hard to believe that a person would over and over again put themselves in a situation where they could expect this kind of behavior to occur," he told the New York Times. 
As for Sulkowicz's Carry That Weight project, in which she has vowed to carry her 50-pound mattress all over campus so long as Nungesser remains at Columbia, Nungesser claims the movement has ended up victimizing him. To him, it is "an act of bullying, a very public, very personal and very painful attack designed to hound him out of Columbia."
And Nungesser's last line of defense? Feminism. "My mother raised me as a feminist," he said, "and I'm someone who would like to think of myself as being supportive of equal rights for women."
No winners. Over at Slate, Amanda Hess writes that perhaps the biggest takeaway of this whole story is that colleges are consistently failing their students when it comes to allegations of sexual assault — both the accused and the accusers. "No matter what actually happened in Nungesser's three cases, campus rape is a systemic problem, and he's just one man," she writes. "Forcing Nungesser to pay personal consequences for the broken system is not going to fix it."
Although Nungesser cries foul, Columbia University has not held him responsible in any of the incidents. Nonetheless, he blames the school for, as the New York Times said, letting "mob justice overrule its official procedures."
One thing is for certain: Justice will continue to remain elusive as long as such a broken system is allowed to remain in place.