S'all Good, Man — the 'Better Call Saul' Trailer Is Finally Here!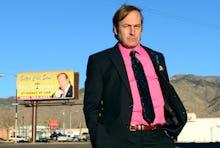 It's been 450 days since the series finale of Breaking Bad, and creator Vince Gilligan has finally decided to give us another fix. That's right, the Better Call Saul trailer is finally here.
After months of being teased by blink-and-you'll-miss-it shots and cryptic teasers, a full — well, a full 30-second — trailer has finally been released. Take a look:
The spin-off series aims to show the rise of Saul Goodman, né Jimmy McGill, a struggling lawyer who reinvents himself as the (newly "converted") Atticus Finch of New Mexico's criminal underworld. The trailer shows highlights a few of Gilligan's trademarks: dark humor, middle-aged angst and a disheveled, hog-tied man being thrown into the desert.
Better Call Saul's two-night premiere airs Sunday, Feb. 8, and Monday, Feb. 9, on AMC. If you need a few more hits of hard legal reality, we've got you.