'The Interview' Is Returning to Movie Theaters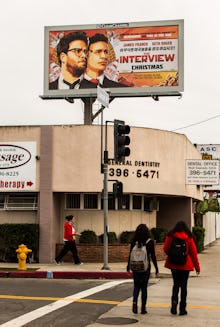 Update, 10:53 am on Dec. 24: Sony will release "The Interview" on YouTube, Brian Stelter of CNN reports. YouTube has tentatively agreed to allow YouTube users to rent the movie.
Original story: Good news, movie fans: The Interview is returning to movie theaters on Christmas Day.
Sources told the Dallas Morning News that Sony "is also going to make the movie available to theaters at a reduced rental rate, as well as put it on a streaming service (not yet named) and video on demand by no later than Christmas."
Alamo Drafthouse isn't the only chain screening the controversial film. The Plaza Theater in Atlanta told WSB-TV that the theater plans on screening the film, adding that the theater worked out the deal with Sony late Monday night and executives "are putting the movie in the mail" Tuesday.
Sony had announced last Wednesday it will pull the plug on its North Korea-centric flick after a massive data breach and pressure from hackers caused five major movie theater chains to refuse to show the film. President Barack Obama said at a press conference Friday that Sony's decision to bow to the threats of North Korean hackers and cancel the release of its satirical movie was "a mistake."
"We have never given up on releasing The Interview and we're excited our movie will be in a number of theaters on Christmas Day," said Sony Entertainment CEO Michael Lynton in a statement. "At the same time, we are continuing our efforts to secure more platforms and more theaters so that this movie reaches the largest possible audience."
"While we hope this is only the first step of the film's release, we are proud to make it available to the public and to have stood up to those who attempted to suppress free speech," added Lynton.