The FDA to Recommend Ending the Lifetime Ban on Blood Donations From Gay and Bisexual Men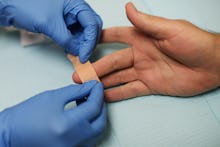 The FDA announced today that it will recommend ending its absolute ban on blood donations from men who have sex with men, a major change to a blanket policy that has been in place since 1983.
For the past 31 years, men who have had loosely defined "sexual contact" with another man at any point since 1977 have been permanently banned from donating blood for fear of unknowingly spreading HIV. The new recommendations would loosen those restrictions: Only men who have had sex with another man in the past year would be banned.
"Over the past several years, in collaboration with other government agencies, the FDA has carefully examined and considered the available scientific evidence relevant to its blood donor deferral policy for men who have sex with men, including the results of several recently completed scientific studies and recent epidemiologic data," the statement reads.
"This recommended change is consistent with the recommendation of an independent expert advisory panel the HHS Advisory Committee on Blood and Tissue Safety and Availabilit, and will better align the deferral period with that of other men and women at increased risk for HIV infection," it continues.
The change comes at a time when gay rights advocates — as well as the American Medical Association — have urged a lift on the ban. "The lifetime ban on blood donation for men who have sex with men is discriminatory and not based on sound science," said AMA board member Dr. William Kobler. 
A draft for the proposed change will arrive in 2015 and will also include an opportunity for public comment, according to the FDA.