The Islamic State's Vicious Campaign Has Taken a Horrifying Turn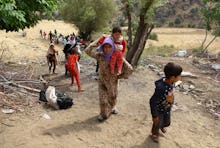 Beatings, rapes and torture are all unthinkable crimes, but Islamic State fighters don't flinch from committing them — not even when victims are children.
A new report from Amnesty International documents the horrifying reality faced by countless Yazidi women and girls, who have endured crimes ranging from torture to sexual enslavement on a daily basis. 
"Hundreds of [Yazidi] women and girls have had their lives shattered by the horrors of sexual violence and sexual slavery in [Islamic State] captivity," the group's senior crisis response adviser Donatella Rovera said in a statement. "Many of those held as sexual slaves are children — girls aged 14, 15 or even younger. [Islamic State] fighters are using rape as a weapon in attacks amounting to war crimes and crimes against humanity."
The report, compiled from more than 40 interviews with former captives, documents barbaric treatment ranging from beatings with electric cables to pseudo-religious justifications for the rape of children. According to Amnesty International, many Yazidi girls have committed suicide upon realizing that their future was one of a forced Islamic State bride.
While the majority of the perpetrators are believed to be armed fighters, others are thought to be opportunistic sympathizers taking advantage of the Islamic State's endorsement of sex slavery for nonbelievers. Islamic State fighters consider Yazidis to be heretics and thus permissible to enslave.
At the same time, extremists allied with or working for the Islamic State have purged women from all spheres of public life. Iraqi human rights activist Hanaa Edwer told the Associated Press that "they are forbidding them from learning, forbidding them from moving around freely. The appearance of a woman is being forcefully altered." She added that at least 10 women have been killed in Mosul for criticizing the group.
There are silver linings: The report shows that some Iraqi and Syrian citizens have gone to great lengths to rescue the captives, including purchasing them and reuniting them with their families.
But for the majority of the hostages, only the long odds of a successful escape offer a way out. And U.S. public interest in the conflict with the Islamic State unfortunately seems to have flatlined since hostilities against Yazidis began in August.
It's not just the public that doesn't care. Rovera said that the U.N. and other humanitarian organizations are failing to combat the threat.
"The Kurdistan Regional Government, U.N. and other humanitarian organizations who are providing medical and other support services to survivors of sexual violence must step up their efforts," Rovera said. "They must ensure they are swiftly and proactively reaching out to all those who may need them, and that women and girls are made aware of the support available to them."
The report puts it more bluntly, saying, "The survivors interviewed by Amnesty International are not receiving the help and support they desperately need."
These terrible crimes may continue for some time as the Islamic State continues to grip onto its ill-gotten land. The first Western journalist permitted to tour its territory, Juergen Todenhoefer, found that "there is an awful sense of normalcy in [the Iraqi city of] Mosul. ... 130,000 Christians have been evicted from the city, the Shia have fled, many people have been murdered and yet the city is functioning and people actually like the stability that the Islamic State has brought them."
"Slavery absolutely signals progress," one German fighter told Todenheofer. "I would say that slavery is a great help to us and we will continue to have slavery and beheadings, it is part of our religion ... many slaves have converted to Islam and have then been freed."