Nicki Minaj Really, Really Wants You to Buy This Product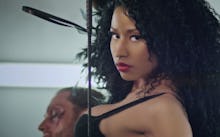 Six months ago, Nicki Minaj's gave us our first taste of her phenomenal The Pinkprint with the video for "Pills N Potions." It offered a glimpse of a far more emotional and personal side than we are used to hearing from the artist formerly known, in part, as Barbie.
It also offered us a glimpse of the Beats Pill.
It was an oddly impersonal and blatant bit of advertising — especially for the lead video off an album that is Minaj's most personal and confessional yet. But it wasn't just about the "Pills N Potions" title — every one of Nicki Minaj's videos for The Pinkprint is essentially a glorified advertisement for Beats. She's trying brainwash her fans to buy Beats products by seamlessly blending her music and the brand.
At two separate points in the "Pills N Potions" video alone, we're subjected to gratuitous shots of the Beats Pill sound system. And it wasn't just about that video either. While many people thought "Anaconda" was all about Minaj's love for her booty, it was actually equally about her love for the Beats Pill. This time, the speaker system (available for just $179.95 on Apple's online store) found its way to this goo-covered skull. Likely, it is the skull of a man who forgot to eat because he loved his Beats sound system so much:
The Beats Pill also shows up in "Only," appearing again in a grim fashion as a way to silence one of the victims in Minaj's torture dungeon. He was probably just another sorry sap who didn't want to buy the Pill.
There are some less subliminal partnerships afoot here, too. Beats by Dre sponsored Minaj's most recent release – her 16-minute long Pinkprint movie, which is essentially three videos for the songs "The Crying Game," "I Lied" and "Grand Piano" in one Beats-loving package. The official title for the film is Beats by Dre Presents: The Pinkprint Movie. Surprisingly enough, there's not a Beats Pill in the video of itself. Maybe it's because Minaj is more interested in the Beats Solo now.
None of this reduces the quality of Minaj's album, but it is an especially striking example of just how aggressive the Beats marketing machine is. The Beats Pill has dominated hip-hop and pop music videos from the past year — including from Chris Brown, Lily Allen, Britney Spears, Ariana Grande, Azealia Banks, Miley Cyrus and more. Mic's Matt Pollock sacrificed hours of his life uncovering the full extent of Beats brainwashing campaign.
And it isn't the first Beats product that is being awkwardly backdoored into popular music. From the headphones to the streaming app, everything Beats makes finds its way into the very fabric of pop culture. Beats' app also made an appearance in rapper ScHoolboy Q's video for "Studio." In the song's awkward second intro, his lover reads off her Beats Audio song-selection sentence: "I'm At Home & feel like Chillin Out with Myself to Hip-hop." 
Just like us.
It's a unique oxymoron in Minaj's case, though. The Pinkprint is Minaj's least overtly commercial musical output. As such, The Pinkprint has not sold as well as her previous albums, likely because it doesn't have massively accessible, bubblegum pop hit like "Starships" or "Super Bass." Her partnership with Beats has obviously helped her make up for some of the money that might otherwise have been lost. 
So Minaj is doing just fine, but it is striking to see just how wrapped up in our cultural production Beats has become. Stay on the lookout for these plugs and remember that music is about connecting — not selling.