These 11 Terrifying Vintage Photos Will Change the Way You Think About Santa Claus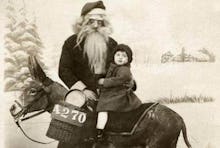 "His eyes — how they twinkled! His dimples, how merry! His cheeks were like roses, his nose like a cherry!"
We all know, or at least are vaguely familiar with, these lines from Clement Clarke Moore's "A Visit From St. Nicholas," more commonly known to us as "'Twas the Night Before Christmas." Though the poem was originally published in 1823 and rendered as the poem's jolly man by Thomas Nast in the 1860s, the iconic image of Santa as the white-bearded, cherub-faced old man solidified in American culture only in the mid-20th century, partially due to the use of Santa Claus in advertisements. Coca-Cola, for example, has given us some classic Santas, all in line with Moore's poem:
But if you dig a little deeper into American cultural history, before commercialism solidified the now-ubiquitous image of Santa Claus, it becomes clear that historical Santa is more than a jolly fat man whose belly shakes like a bowl full of jelly. From Pervy Santa to Creepy Santa, these vintage images from the late 19th and early 20th centuries will show you a side of Kris Kringle you'd never seen before.
Creepy Santa will push those dancing sugar plums out of your sleepy head:
His plasticky stalker face belongs in a Halloween movie with Jamie Lee Curtis:
This Santa is pretty much looking to abduct you:
Pervy Santa, however, will make you reconsider the meaning of the twinkle in his eyes:
You know Don Draper was behind all these ads:
While this Sexist Santa is apparently Tony Abbott:
And this 1897 image of Santa basically means he's Death personified:
Sweet dreams...?
As these vintage images prove, Santa is a product of the (chauvinistic, goofy or creepy) times that made him. Yes, Megyn Kelly, there's even a black Santa — as a figment of our imagination, Santa Claus is shaped by our own cultural identities and desires. As society has grown more commercialized, pluralistic and kid-centric, we've moved from the wintertime Krampus monsters to the image of a happy grandfather with a bushy beard.
Just remember: Santa, in all his forms, is real. Because we created him.