The Man Who Allegedly Killed bin Laden May Have Said Too Much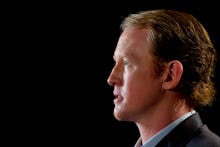 Robert O'Neill, the former Navy SEAL who claimed credit for killing Osama bin Laden during a 2011 raid in Abbottabad, Pakistan, is under investigation for leaking classified information. 
O'Neill is facing an inquiry from the Naval Criminal Investigative Service for potentially disclosing official secrets to people without proper clearance, the Daily Beast reported Tuesday. The outlet, the first to break the news, noted that it's unclear with whom O'Neill may have been in communication or what the information pertained to.
On its website, NCIS says that it doesn't open investigations unless it's a "major" criminal offense with a punishment of more than a year in prison.
O'Neill was the subject of an anonymous 2013 Esquire profile and went public with his story in November. 
"I turned and went into the next room and I was looking at Osama bin Laden and that's when I shot him and killed him," he told CBS News. He was also featured in a two-part Fox News documentary, in which he said it was "just luck" that he was the one to pull the trigger.
O'Neill's claims, however, were not without controversy. Other special operations officials disputed his version of events, and another former Navy SEAL, Matt Bissonnette, also took credit for killing the world's most wanted terrorist.
Members of elite divisions like O'Neill and Bissonnette have come under scrutiny in the past for revealing details of their missions. In October, the head of Naval Special Warfare Command issued a "stinging rebuke to troops who have broken the elite force's hallowed tradition of secrecy and humility," Yahoo News reported. 
Bissonnette, who wrote a book about the bin Laden raid, is also under investigation for possibly disclosing classified information. 
Some, however, are dubious of the O'Neill investigation, including Joe Kasper, chief of staff for Rep. Duncan Hunter (R-Calif.). Hunter is a Marine reservist and knows O'Neill.
"In normal circumstances, the Navy would be right to pursue an investigation but there's still no evidence that a disclosure of any type occurred," Kasper told the Daily Beast. "Regardless of whether you think Rob O'Neill should have identified himself or not, an investigation will need turn up credible evidence that disclosures were made — and on that front, at least so far, there's no compelling evidence that occurred."
Pinpointing which SEAL Team Six member was directly responsible for bin Laden's death hinges on finding out who fired the shots that struck him in the head, but it's a question that may never be fully answered.
Regardless, leaks pertaining to the bin Laden raid — whether they're the same leaks O'Neill is now under investigation for — are upsetting some former SEALs.
"We work in secret and we pride ourselves on that," former SEAL Jonathan Gilliam told the Associated Press in November. "If somebody comes out and spills this much, it angers the rest of us."