Grand Jury Clears Houston Cop Who Killed a 26-Year-Old Unarmed Black Man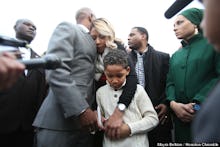 Mayra Beltran/Houston Chronicle
A grand jury in Harris County, Texas, has declined to indict a local police officer who shot and killed an unarmed black man in January.
College student Jordan Baker, 26, was killed after off-duty Officer Juventino Castro pursued and killed him in an alley behind a Houston strip club under disputed circumstances. ABC 13 reports that Castro was working security at a strip mall at the intersection of Antoine Drive and West Little York Road when he saw Baker, who was wearing a black hoodie that the officer claimed was similar to those worn by suspects in three recent robberies at the mall. After Castro asked Baker for ID, the officer reported, there was a short struggle and a chase. Police claim that Baker was killed after he reached into his waistband while charging toward Castro, who said that he feared for his life as he fired the fatal shot.
This should sound like a familiar story to anyone following recent accounts of police killings of unarmed black men. According to the Houston Chronicle, Baker's family and activists think that Baker's civil rights were violated.
"Jordan Baker was bothering nobody. He didn't have a weapon on him. He was racially profiled," activist Deric Muhammad told the Houston Chronicle, adding that the decision turned Houston into "Ferguson, Texas."
"He's not the way they portrayed him," Baker's mother, Janet Baker, told ABC 13. "He's a father. He's a grandson. He's a son. And he was just taken away." She doubted the official story, adding that "I don't believe that's what occurred. I think that's him trying justify the outcome of what happened."
Faced with the news of a non-indictment, she told the Houston Chronicle, "I intend to seek justice for Jordan. We just have a lot of work to do."
A department in crisis: Houston police haven't had a great couple of years. Earlier this year, the Houston Chronicle reported that the department had failed to investigate approximately 20,000 burglary, theft, assault and hit-and-run cases with "workable leads." The paper also reported that Harris County grand juries have cleared officers in every shooting of a civilian since 2008, despite the fact that more than a quarter of the 121 incidents between 2008 and 2012 involved an unarmed victim.
An eight-month investigation by the Texas Observer last year found that Houston officers are rarely punished for excessive force, even when they are reported by other officers. Internal Affairs pursued just 15 of 706 police abuse accusations over the six years preceding the report, including just 11 of 118 complaints lodged by fellow police. In their separate analysis, the Texas Observer came up with their own data set using HPD records. Of the 550 incidents between 2007 and 2012 where an officer injured or killed a person or animal with his firearm, including 109 fatal and 112 non-fatal shootings of civilians, every single one was ruled justified by the department.
The Texas Observer has also concluded that all police oversight mechanisms in Houston are toothless, unable to compel Internal Affairs to do anything. One officer who met with the paper's Emily DePrang told her: "It's like a communist country. A lot of us wish we could talk, but they're nervous as a cat in a room full of rocking chairs. ... Boy, I hope they get that citizen oversight board soon."
What happens next: While Castro won't be facing any criminal charges, the Houston Police Department is investigating whether or not he violated department procedures by firing his weapon at an unarmed man. Attorney Sadiyah Evangelista added that the family would be filing a complaint with the Department of Justice and asking for a federal investigation.
In August, former HPD Chief and Houston City Councilman C.O. Bradford admitted that the department desperately needed more transparent oversight and concluded that "Ferguson should be a wake-up call for our community. Let the conversation begin now."
That conversation might come too late for Jordan Baker, but it's one that is still needed to prevent future incidents like these.