The DOJ Is Investigating a Milwaukee Police Officer's Killing of an Unarmed Black Man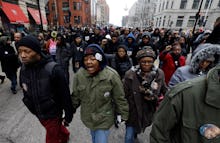 The Justice Department will be looking further into the death of Dontre Hamilton at the hands of Milwaukee Police Officer Christopher Manney
Hamilton, a black man, was unarmed when Manney, a white man, shot him 14 times following a fight in a park. Milwaukee County District Attorney John Chisholm announced Monday that Manney would not be charged, an announcement that sparked national outcry in the wake of the Eric Garner and Michael Brown grand jury decisions in the past two months.
The background: Hamilton, who had a history of mental illness and had been treated for schizophrenia, was visited multiple times by police after someone called to say he had been sleeping on a park bench. When Manney arrived, he didn't know Hamilton had already been visited twice by officers who determined he wasn't doing anything wrong, according to the Milwaukee Journal Sentinel.
Hamilton fought back when Manney patted him down, and the officer told police internal affairs that he tried to use his baton but had it stolen by Hamilton and used against him. That's when he drew his weapon and fired, killing Hamilton.
Manney gave his version of events in an interview with authorities after the shooting. His description of why he kept firing fits into the tragically dangerous stereotypes often attributed to black men: It seemed like Hamilton had "super human strength" and the bullets appeared to have no effect.
The reaction: The shooting and subsequent lack of charges were met with protests in Milwaukee. Hamilton's family members worked with the local government to implement Crisis Intervention Team training, which teaches how to handle those in psychiatric crisis, for all police officers, according to the Journal Sentinel.
Manney was actually fired from the department for not following police guidelines in his handling of the situation (though not for use of excessive force). Since there was no apparent risk from Hamilton, Chief Edward Flynn decided, he shouldn't have been patted down in the first place.
While that introduces some modicum of accountability, it didn't placate Hamilton's family members, who still wanted to see Manney stand trial. That's up to the Justice Department now.
h/t Slate