This Congressman Just Became a Convicted Felon — and Says He Plans to Go On Serving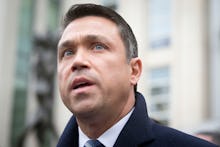 Next time you hear someone complaining about all those crooks in Congress, don't roll your eyes — they're right about at least one of them.
Rep. Michael Grimm (R-N.Y.) pleaded guilty to felony tax evasion Tuesday. He was just re-elected to represent New York's 11th District in November, and has publicly declared that he will not resign despite his pesky little conviction.
"As long as I'm able to serve, I'm going to serve," he said, according to CNN.
What might stop Grimm from being able to serve? One to three years behind bars, probably. While he waits for his sentence, it's up to Republican leaders to figure out how to deal with the embarrassment.
The background: Grimm faced 20 counts of fraud and tax evasion related to a health-food restaurant he owned in Manhattan. A former FBI agent and Marine, Grimm bought the restaurant, Healthalicious, after leaving the FBI in 2006, according to the New York Times. Prosecutors said Grimm hid more than $1 million in income and paid restaurant employees under the table to avoid taxation.
It's the biggest PR crisis Grimm has faced since joining Congress, but its not the first. He threatened to throw a reporter off a balcony earlier this year after President Barack Obama's State of the Union address, in a bizarre encounter that was caught on tape.
"You're not man enough," he told NY1 reporter Michael Scotto, who was asking about his campaign finances. "I'll break you in half. Like a boy."
The reaction: While Grimm has pledged to serve, his fellow Republicans have not yet made their feelings known. A spokesman for House Speaker John Boehner (R-Ohio) told CNN, "We won't have any announcements until the Speaker discusses the matter with Mr. Grimm." Democrats, of course, called for him to resign immediately.
Other congressional criminals haven't been long for the legislature. Most recently, former Rep. Trey Radel of Florida resigned earlier this year, two months after pleading guilty to cocaine possession. Others have resigned for technically legal dalliances — former New York Rep. Chris Lee and former Indiana Rep. Mark Souder left office thanks to well-publicized affairs.
Given the nature of Grimm's crime and the jail time he's probably facing, it's very unlikely Grimm will serve out his term. Republicans are riding high after taking control of Congress in November, and they're not likely to want to kick off 2015 with a convicted felon in the fold.