New Report Reveals the Horrifying Human Cost of Qatar's World Cup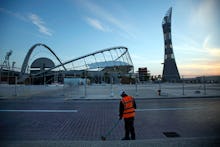 The 2022 World Cup in Qatar is being paid for in blood.
A brutal project: Qatar had vowed to reform the industry after a 2013 Guardian investigation exposed the slave-like conditions and treatment of migrant workers brought into the country to aid with World Cup preparations. The investigation uncovered evidence of forced labor, retained salaries, confiscated passports and restricted access to free drinking water in the desert heat.
According to The Guardian, "the government commissioned an investigation by the international law firm DLA Piper and promised to implement recommendations listed in a report published in May. But human rights organizations have accused Qatar of dragging its feet on the modest reforms, saying not enough is being done to investigate the effect of working long hours in temperatures that regularly top 50C."
"Figures sourced separately by the Guardian from Nepalese authorities suggest the total number of Nepalese worked who died between January and mid-November of 2014 could be as high as 188," Owen Gibson and Pete Pattisson report. "In 2013, the figure from January to mid-November was 168."
Editors Note: Mar. 2, 2015 
An earlier version of this article failed to cite a passage from The Guardian in accordance with Mic editorial standards. The article has been updated to properly attribute the language to The Guardian.