President Obama Used a Toys for Tots Event to Break Down Gender Stereotypes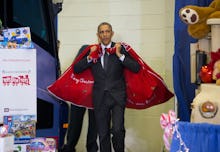 When President Barack Obama joined first lady Michelle Obama at a Toys for Tots celebration at Joint Base Anacostia-Bolling in Washington, D.C., he used the opportunity to redefine "girly" toys.
In helping the first lady fill bins separated by gender and age group at the Dec. 10 event, he made sure to add things like basketballs, tee-ball sets and LEGOs to the bins for girls.
"I just wanna make sure some girls play some ball," he said. "I'm just trying to break down these gender stereotypes."
Obama made a similar gesture earlier this week during his year-end press conference by only calling on women to ask questions.
"The fact is, there are many women from a variety of news organizations who day in and day out do the hard work of covering the president of the United States," White House press secretary Josh Earnest said afterward. "As the questioner list started to come together, we realized that we had a unique opportunity to highlight that fact."
The U.S. Marine Corps' Toys for Tots campaign ended up receiving about 1,000 toys from White House staff at the event. The president capped it off with perhaps his most radical gender equality and anti-censorship point yet.
"I am positive that girls 0 to 2 — that's perfect for the Call of Duty video game," he said. "Isn't that right?"