Six Men Arrested for Threatening Police Since Brutal Murder of New York Officers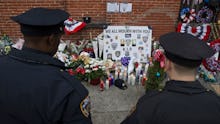 New York City police have arrested at least six people over violent threats to police since the deadly shootings of two officers last weekend.
Tyrone Melville was arrested on Wednesday after he allegedly called the switchboard of Brooklyn's 84th Precinct, where the slain officers were based, police spokesman Sgt. Carlos Nieves told Reuters. Jose Maldonado was charged with making terroristic threats after allegedly threatening on his Facebook page to kill police officers and posting pictures of weapons
The NYPD had already made four arrests for threats against police officers after combing through "hundreds of online postings" since officers Rafael Ramos and Wenjian Liu were shot and killed on Saturday by a gunman reportedly seeking revenge for unarmed black men killed by police. 
On Tuesday, the 75th and 104th precincts in Queens received bomb threats, according to CBS New York. Both buildings were swept by the bomb squad and cleared. 
The Sergeants Benevolent Association, one of the largest police unions in the city, tweeted late Tuesday night that the threat came from a confidential informant who said a Baltimore street gang called the Black Guerilla Family "planned to storm the precincts for a shootout with police."
Editors Note: Mar. 2, 2015 
An earlier version of this article failed to cite a passage from Reuters in accordance with Mic editorial standards. The article has been updated to properly attribute the language to Reuters.