President Obama Just Broke One of His "Cardinal Rules" for This Photo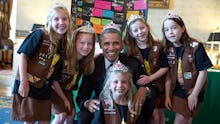 "You don't put stuff on your head if you're president."
According to President Barack Obama, "that's Politics 101," and the reason that he's turned down offers to don custom football helmets, hats and other headgear — until yesterday, when White House photographer Pete Souza captured the leader of the free world donned a tiara for a group shot with some Girl Scouts. 
We imagine that Kate Middleton is fuming:
They must have promised him a lot of cookies: Souza posted the photo to Instagram on Wednesday. It shows the president donning a tiara alongside a group of Girl Scouts from Tulsa, Oklahoma, at the White House Science Fair in May. 
While some may see this as just a silly photo-op, it's actually a perfect bookend to Obama's breaking down of the Christmas present gender binary at a Toys for Tots event earlier this month, and his pro-equality gesture from earlier this week during his year-end press conference when he only called on women to ask questions.
Although we can't discard the possibility that Obama only donned the tiara out of jealousy of the Duchess of Cambridge, it's far more likely that this is just one more feminist move by a president who has shown himself to be a polestar of gender equality. You go, girls.