Sony Was Just Hit With Yet Another Hacking Attack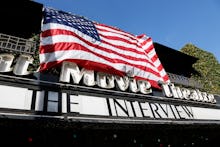 Just when the Interview saga seemed to finally come to a close, hackers struck again on Christmas Day — and this time, it wasn't just Sony that was affected.
Microsoft's Xbox Live and Sony's PlayStation networks suffered connection failures on Thursday, thanks to the work of hacker group Lizard Squad. The hack interrupted the gaming of Xbox's estimated 48 million subscribers and PlayStation's 110 million.
Lizard Squad doesn't appear associated in any way with Guardians of the Peace, the group responsible for the massive data breach earlier this month that embarrassed the company and put The Interview in jeopardy. Although Lizard Squad didn't give any reason for the attack, they claimed responsibility for the incident and said that they would "'stop hitting' the services if users called attention to the hack by retweeting its statements," Bloomberg reported.
Game over: This isn't the first time that Lizard Squad has claimed responsibility for a hack on Sony, nor is it the first time that these gaming networks have been attacked. In 2011, hackers targeted Sony after the company sued a researcher for exposing vulnerabilities in the PlayStation 3 console. That hack resulted in the theft of 77 million users' personal information. The company came under fire for taking seven days to tell users about the leak and for not addressing network flaws that had been pointed out previously.
After working hard to regain the trust of its users, Sony appears to be in the same position once again. At this point, it remains unclear whether personal information has been compromised in the Christmas Day hacks. But Sony told Bloomberg that they're "confident" the hacks won't affect the company or their sales.
Re-spawn: Despite those confidences, this hack is undoubtedly a headache for Sony. In December, a different hacking group called Guardians of Peace hacked the company's TV and film unit in response to the upcoming release of comedy The Interview, which depicts the assassination of North Korean leader Kim Jong-un. The hack resulted in the destruction of data, the exposure of private information and the eventual decision to cancel the theatrical release of The Interview, a decision that Sony soon backtracked by releasing the film in selected theaters and making it available online.
While Sony might still be stressed, gamers can breathe a sigh of relief. As of Friday, users can once again log in to Xbox Live, and PlayStation reports that they're hard at work fixing the problem. Game on.