#InsultErdogan Brilliantly Destroys Turkey's President for Arresting a 16-Year-Old Boy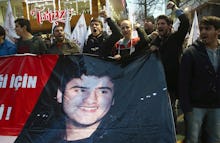 Turkish police arrested a high school student Thursday in the city of Konya on charges of insulting President Tayyip Erdogan, Reuters reports. 
Mehmet Emin Altunses, 16, was arrested after giving a speech to commemorate the killing of a Turkish soldier by Islamists in the 1920s in which he singled Erdogan for criticism over the president's long history of corruption allegations. 
According to the BBC, the assembled crowd chanted "Everywhere is bribery, everywhere is corruption." The video was recorded on video and broadcast by Dogan News Agency. Prime Minister Ahmet Davutoglu defended the arrest, arguing that the presidential office "needs to be shown respect." Turkey's penal code makes it a crime to insult the president, and Altunses could have faced up to four years in prison if found guilty. 
Turks are pissed: A Turkish court Friday ordered the release of Altunses, but hundreds of Turks have taken to the streets in recent days, decrying his detention was the latest sign of the country veering to authoritarianism.
Many Turkish social media users, outraged over Erdogan's corruption and the teens' arrest for simply criticizing an ineffectual government, flooded Twitter this week in a show of defiance to the regime, posting messages and insults under the hashtag #InsultErdogan.
The use of Twitter is a double act of defiance: Access to Twitter was blocked in the run-up to local elections March 21, but Turkey's telecoms authority lifted the ban weeks later after the country's Constitutional Court ruled that the ban breached freedom of expression and individual rights. 
The #InsultErdogan tweets are a mix of humorous jabs and scathing critiques of Erdogan's regime:
It's unlikely that this hashtag is going to do anything more than needle Erdogan for his ridiculous crackdown on dissent — but it's a sign to the rest of the world that Turkish citizens aren't going to take state abuse lying down.