This Woman's Rape Went Viral — Now She's Reclaiming Her Story in a Major Way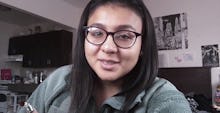 In October 2012, Elisa Lopez's sexual assault was videotaped on the New York City subway. Over two years later, with the help of the anti-street harassment organization Hollaback!, Lopez is the star of a very different kind of video. 
The result? By reclaiming her story, she has moved from victim to survivor.
In an interview with Jill Filipovic for Cosmopolitan, Lopez, the 23-year-old daughter of Honduran immigrants who serves in the Air National Guard, spoke in detail about her assault, and what happened in the aftermath of the video being widely distributed online, from porn sites to Gawker. Lopez filed a police complaint immediately after seeing the video, but she couldn't get it removed from the Internet because it was protected, she was told, by the First Amendment.
A college student at the time of the incident, Lopez describes how the trauma deepened and eventually affected her grades, as well as her physical and mental health. She felt shame and blamed herself. She also felt frustration, because none of the other dozen or so passengers on that subway car — including Jasheem Smiley, the man who filmed the incident and uploaded it to YouTube — stopped the assault.
"I kept being really mean to myself and saying, 'You shouldn't be drinking, you shouldn't be getting that drunk on the train, I shouldn't, I shouldn't, I shouldn't,'" she told Filipovic. "For a while I just kept associating myself with that person, the drunk girl on the train, and I'm like, 'I'm more than that. That's not who I am. I'm a person. I'm another human being that nobody bothered to help.'"
Not only did no one help Lopez, but the filming and dissemination of the assault on the Internet was, as Filipovic put it, an additional assault: "The assault was the first violation. The video was the second." This is why Lopez has joined with Hollaback! to raise awareness about bystander prevention and complicity with sexual assault.
"I'm tired of being afraid," Lopez says in her Hollaback! video, which includes graphic footage of the actual assault. "It's important for me to tell my story."
While there has been no arrest in the case, Lopez is taking control of her own story in the hope that she can help other survivors of sexual assault, especially other military service members, find power in reclaiming their stories. 
h/t Cosmopolitan