Those Delicious Holiday Caramel Apples Are Going to Ruin Your Insides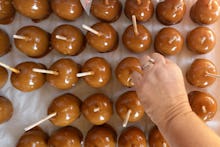 Your caramel apple may cause fever, confusion, muscle aches and convulsion — and not because of all that sugar.
California's Health and Human Services Agency has joined a probe into an outbreak of listeria linked to caramel apples that has sickened 29 and killed five across the state.
Customers should avoid Happy Apple-brand caramel apples because they may be contaminated, the California Department of Public Health said in a statement Thursday. Bloomberg News reports that the outbreak appears to involve multiple caramel-apple brands sold in 10 states, and Happy Apple is voluntarily recalling its apples, which were manufactured between Aug. 25 and Nov. 23.
California is joining investigations by the Food and Drug Administration and the Centers for Disease Control and Prevention into the listeria outbreak. 
The germ sickens about 1,600 in the U.S. every year and is the third-leading cause of death from food poisoning. Symptoms of listeriosis include high fever, headaches, neck stiffness, nausea and diarrhea. According to the CDC, listeria infections are especially dangerous for newborns, pregnant women, older people and anyone with a weakened immune system.
Most people who get the infections have to be hospitalized, and one in five of them dies. 
Happy Apple may face criminal charges if the current outbreak in California worsens. In 2013, the owners of a Colorado cantaloupe farm were arrested on charges stemming from a 2011 listeria epidemic that killed 33 people in one of the nation's deadliest outbreaks of food-borne illness.