This New Maya Angelou Video Is Required Viewing for Cultural Appropriators Everywhere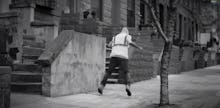 This may be the best way to teach Iggy Azalea about the history of hip-hop.
The newly released music video for "Harlem Hopscotch" movingly illustrates how black American culture is rooted in song — the song of poetry, the song of hip-hop. The song is one of 13 from Maya Angelou's posthumous album, Caged Bird Songs, released this past November and inspired by her 1969 autobiography, I Know Why the Caged Bird Sings.
Recordings of Angelou were set to beats by RoccStar and Shawn Rivera of the R&B vocal pop group Az Yet. Filmed in Harlem, New York, and several locations around Los Angeles, the video stars a number of acclaimed dancers from So You Think You Can Dance and America's Best Dance Crew, as well as Dancing With the Stars champ Alfonso Ribeiro.
Angelou was "the first lady of hip-hop." Rivera, in an interview with NPR, explained how the language and rhythm of Angelou's poetry is rooted in the vernacular tradition of spirituals and gospel, but it also incorporates the more contemporary secular tradition of rhythm and blues, jazz and hip-hop. "When you read the poems on the page, they can be interpreted rhythmically by the reader," Rivera says. "But when Dr. Angelou reads them, there's no doubt that she was coming from the place of rhythm. ... You can tell the rhythms were implied already. She already was the first lady of hip-hop."
But it's not just the rhythm that has historical resonance — it's the language itself. "Hopscotch," in this poem, is a metaphor about the incessant difficulties of life faced by black Americans. The game itself, driven by rhythm and often set to music while played, is a tradition in black culture, and every "twist and jerk" represents life difficulties that hit at every turn. 
"Harlem Hopscotch" gives new life to Angelou's powerful work. But more importantly, the combination of spoken-word poetry with hip-hop music demonstrates how black and African-American identity has been long been forged in the rhythmic lyrics of song. This is why Angelou was so excited to do the album, as Angelou's grandson Colin Johnson, quoted in the Huffington Post, explains: "With her dedication to social activism and how she illuminated the struggles and injustices of the urban experience through prose, there's a direct correlation to hip-hop today. She was really excited about her street-wise commentary being presented in this way."