Idris Elba Had the Perfect Response to People Who Don't Want a Black Bond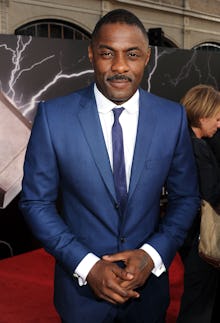 If producers want to make the next James Bond the franchise's classiest superspy to date, contender Idris Elba is destined to stay at the front of the pack.
Damn, he's cool. After leaked emails from Sony Pictures revealed that top brass at the company had declared that "Idris should be the next Bond," a few people couldn't handle the idea that the world's suavest spy could be a black man.
Porcine radio host and troll king Rush Limbaugh even said on his show: "Now Sony is suggesting that the next James Bond should be Idris Elba, a black Briton rather than a white from Scotland. But that's not who James Bond is, and I know it's racist to probably even point this out."
"We had 50 years of white Bonds because Bond is white," Limbaugh added, apparently forgetting that James Bond is not a real person. "Bond was never black."
Elba's response is perfect. Leaving aside the ridiculousness of the argument that fictional character James Bond "is" white, Elba possesses all of the traits that cinemagoers have come to identify with Bond over the decades: He's insanely handsome and suave, he looks excellent in a suit, and, most importantly, he has demonstrated a level of class in the face of adversity that gives even Sean Connery a run for his money. 
It should be noted that the current Bond, Daniel Craig, faced similarly moronic criticism for being blond. But while the person who will don his iconic tuxedo next remains to be seen, Elba's tweet has earned him our vote.