The Man Who Tried to Assassinate Pope John Paul II Just Did Something Remarkable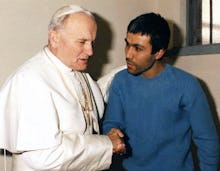 Thirty-three years ago, Turkish extremist Mehmet Ali Agca attempted to assassinate Pope John Paul II. Today, he laid white roses on the deceased pontiff's tomb.
This is the latest in a long series of acts of penitence by Agca, occurring 31 years to the day after Pope John Paul II visited him in prison in Rome to forgive him. Agca, 23 at the time of the attempted assassination, shot the pope four times from close range in the middle of St. Peter's Square. Two bullets lodged in the pope's lower intestine, the others hitting his left index finger and right arm. Pope John Paul II suffered severe blood loss and nearly died from the attempt.
Agca served 19 years in prison in Italy, during which time he converted to Christianity. He then received a visit from the pope, who asked his followers to "pray for my brother, whom I have sincerely forgiven." Agca was later deported to Turkey, after being pardoned at the pope's insistence.
Paying it forward: Pope John Paul II's famous gesture of goodwill toward Agca endeared him to Catholics and non-Catholics alike. His action changed a man's heart from one of murder to contrition, as proved by Agca's return to Rome today. 
"I felt the need to make this gesture," Agca told police, according to Agence France-Presse. He also requested a meeting with Pope Francis, but was declined by the Vatican. "He has put flowers on the tomb of John Paul II," Pope Francis' spokesman, Federico Lombardi, told La Repubblica. "I think that is enough."
h/t Yahoo News