An AirAsia Plane With 162 Aboard Has Gone Missing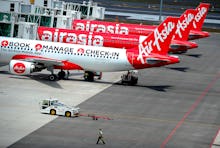 An AirAsia plane with 162 people aboard is missing after takeoff from Indonesia on the way to Singapore.
AsiaAir Flight QZ8501 lost contact with air traffic control at 7:24 a.m. local time Sunday morning after taking off from Surabaya, Indonesia, according to a statement from AirAsia.
Indonesia Transport Ministry official Hadi Mustofa told Reuters the plane "had asked for an unusual route" before it lost contact when it was believed to be over the Java Sea, between the Kalimantan and Java islands. The aircraft had reportedly requested a route deviation because of rough weather before communication was lost. 
According to the AsiaAir statement, Flight QZ8501 was carrying 155 passengers and seven crew members, including 149 Indonesians, three Koreans, one Malaysian, one Singaporean and one British citizen. There were 16 children and one infant on board, according to the passenger manifest.
The captain in command had a total of 6,100 flying hours and the first officer a total of 2,275 flying hours, AirAsia said, adding that the Airbus 320-200 had undergone scheduled maintenance Nov. 16.
"At the present time we unfortunately have no further information regarding the status of the passengers and crew members on board, but we will keep all parties informed as more information becomes available," AirAsia said in the statement. "At this time, search and rescue operations are in progress, and AirAsia is cooperating fully and assisting the rescue service."
Singapore's civil aviation authority said it was informed about the missing plane by Jakarta ground control about half an hour after the contact was lost.
"Search and rescue operations have been activated by the Indonesian authorities," it said in a statement, adding that the Singapore air force and the navy also were activated with two C-130 planes.
The plane left Surabaya Juanda International Airport at 5:27 a.m. Sunday and was due to arrive in Singapore at 8:37 a.m., according to the website.
The White House said in a statement that President Obama has been briefed on the missing flight and White House officials will continue to monitor the situation.