CNN's Missing AirAsia Flight Coverage Just Took a Turn for the Ridiculous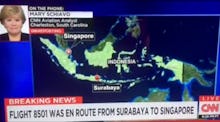 AsiaAir Flight QZ8501 lost contact with air traffic control at 7:24 a.m. local time Sunday morning after departing from Surabaya, Indonesia, with 162 people aboard. The plane is still missing.
Ss the world continues to closely monitor the situation, CNN thought they could add interesting "perspective." Though several of the missing flight's details are still unknown, Mary Schiavo, a CNN aviation analyst from Charleston, South Carolina, felt confident ruling out a terrorist attack because "most terrorist activities take place in good weather."
No, seriously.
"At this point, given it was extremely bad weather, the chances of this being some sort of terrorist activity are very small because most terrorist activities take place in good weather," she said.
Yeah, not great.
To be fair to Schiavo, as CNN's aviation analyst, she was pulling double duty and had been on the air for a long shift. 
But during this stressful situation with so many people missing, arguing that "terrorists only terrorize on nice, sunny days" undercuts her and CNN's credibility. 
Everyone wants answers about AsiaAir Flight QZ8501, but for the time being, people — including CNN and their analysts — will have to wait for more facts to come out before making these kinds of speculative claims.