Meet the Family That Was Supposed to Be on AirAsia QZ8501 But Miraculously Wasn't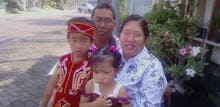 The search continues for AirAsia Flight QZ8501 after it vanished en route from Indonesia to Singapore with 162 people onboard Sunday morning. But on the ground, Indonesian man Chandra Susanto is reeling after learning he and his family narrowly avoided boarding the plane though a combination of luck and circumstance.
Susanto told the Daily Mail that he, his wife Inge and three children were scheduled to board the flight but had to cancel the day before when his father fell ill. To demonstrate just how closely he and his family brushed with imminent danger, Susanto shared a photo of his previously printed ticket: 
"My father became ill so we had to cancel our flight," Susanto told the Mail. "It was a difficult decision to make because my son Christopher was so disappointed. He had been looking forward to the holiday for a long time."
But what started as a disappointing change may have resulted in saving the Susanto family from an unknown fate aboard the AirAsia flight.
"I found out about the flight when my sister called me. She was so scared. She had seen the news on TV," he said. "I am very thankful to God for his mercy for me and my family. But I am so sad and very sorry for the people on the plane. ... We have an opportunity to be the best people we can and to help others. We are so thankful to God."
According to the Sunday Times, the 10-person Cahyono family also failed to board QZ8501 after missing an email rescheduling the flight. The Cahyonos arrived at the airport and were told that they could board the next plane leaving but declined after hearing that AirAsia had lost contact with their original flight.
While it's incredibly fortunate that at least some potential passengers avoided whatever fate has befell QZ8501, survivors of previous similar incidents, like Dutch man Maarten de Jonge who was supposed to be on both of the crashed Malaysia Airlines flights earlier this year, have been quick to note these aren't exactly feel-good stories.
"I have my story done and I would like to leave it ... my story is ultimately nothing compared to the misery in which so many people are paid," Jonge, who narrowly avoided boarding ill-fated Malaysia Airlines flights MH370 and MH17, wrote on his website. 
"Attention should be paid to the victims and survivors. Wishing everyone affected by this disaster a lot of strength."