Bill Cosby Is Finally Responding to Rape Allegations — But in the Worst Way Possible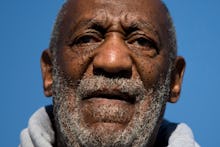 The news: Bill Cosby may finally be ready to address the claims by dozens of women who say he is a serial sexual predator. But instead of talking about his personal behavior, apparently Cosby wants the focus to be on the credibility of his accusers. 
According to the New York Post's Page Six, Cosby has hired a team of private investigators to discredit his accusers by any means necessary. Page Six reported that Cosby hired a Los Angeles-based investigation firm with six former Los Angeles Police Department detectives on staff to dig up dirt on the 26 women who have claimed Cosby drugged and raped them.
Page Six's Stacy Brown relays what sources communicated about the operation:
"If you're going to say to the world that I did this to you, then the world needs to know, 'What kind of person are you? Who is this person that's saying it?'?" Cosby told his legal and public-relations team at a recent meeting, according to an insider who was present.
According to Brown, sources allegedly said Cosby's investigative team already had discrediting information on accusers Beverly Johnson and Katherine McKee, both of whom spoke approvingly of Cosby after the alleged assaults.
A terrible tactic: As Cosby is quoted, smearing rape victims as liars is unfortunately nothing new. While only 2-8% of rape accusations are judged to be false, alleged victims are often subject to harsh interrogations from police and attacks on their credibility from community members and the accused themselves. Maria Treme, for example, found her photo being distributed on a flier with the words "No Evidence of Rape!" in her neighborhood after the New Orleans woman says she reported an assault at a local bar.
The International Association of Chiefs of Police believes the biggest obstacle to successful rape prosecutions is the failure of police to take victims seriously. But even when they do, victims face an uphill battle. Since inconsistencies in witness testimony are common as a result of trauma-related stress, they are often seized upon by defense teams as evidence of lying. According to CBS, just 25% of rape claims result in an arrest and even fewer result in a conviction.
Cosby, of course, has little interest in anything but clearing his name. Considering that 26 women have stepped forward to claim they were assaulted by him under similar circumstances, any new evidence that seems to fit his agenda should be evaluated skeptically.
h/t Gawker