NYPD Chief: "Inappropriate" for Police Officers to Turn Their Backs on Mayor de Blasio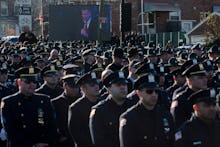 NYPD Commissioner William Bratton said on Sunday it was "very inappropriate" that some officers turned their backs on Mayor Bill de Blasio while he delivered the eulogy for a slain police officer on Saturday.
Many officers had turned their backs on de Blasio when he entered Woodhull Hospital on Dec. 20, after Officers Rafael Ramos and Wenjian Liu were shot and killed while sitting in their patrol car. The display, meant to show that many officers have lost trust in the mayor, appeared again during the funeral for Officer Ramos' on Saturday when hundreds of law enforcement officers outside the church turned their backs when de Blasio appeared on a large screen to deliver his eulogy
"See us. See the police," urged Bratton. "See why they have the anxieties and the perceptions they have."
"The mayor of the city of New York should not be blamed for the murder of those police officers," Giuliani told Face the Nation. "It doesn't matter if you like the mayor or you don't like the mayor, you have to respect the mayor's position."
Correction: Dec. 30, 2014