This Is Why There Are So Many Engagement Photos on Your Facebook Right Now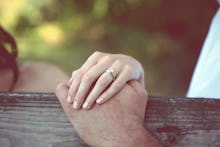 If you're getting the creeping feeling that every single person you know got engaged over the holiday break, you're not totally wrong: There is such a thing as "engagement season," and we're right in the middle of it.
Engagement season unofficially starts around Thanksgiving and goes through Valentine's Day, with a huge proportion of engagements (the numbers vary, but some reports say as many as 40%) happening in this four-month stretch. A 2004 report from Condé Nast Bridal Group found that 19% of couples get engaged specifically over the December holidays, and countless jewelers have reported spikes in diamond sales in December. 
What's more, Facebook's algorithm is designed in such a way that may favor engagement photos, pushing those shots of sparkly ring to the top of your feed. 
The season has never been more in-your-face. Here's why it's happening right now.
Winter engagements are perfect for summer weddings. For couples who decide to take the plunge, a holiday engagement leaves an ideal amount of time to plan a summer wedding. Sure enough, the January issues of bridal magazines such as Brides are consistently their best-selling issues, and Google searches for "wedding planning" spike each year in January. 
Sure, some couples wait a full 12 months or more to marry, turning winter engagements into winter weddings. But the most popular season to get married is still summer, specifically June and September — in other words, a solid six-to-nine months after an "engagement season" engagement.
Holidays are the time for taking stock of relationships. It's no surprise that as the year comes to an end and everyone reconnects with their families, couples decide to assess their relationships. As online jewelry retailer Mark Vadon told the New York Times, "It is a season when you're thinking about other people who are meaningful in your life. People are emotional. And an engagement is an important event you want to share with others, especially your family" — and your hometown friends, as pictured below:
For what it's worth, all that emotion also means more breakups. For every lovey-dovey engagement photo on Facebook, there's probably another couple realizing that the relationship that began several months ago just isn't going the distance. It could be that the looming prospect of meeting extended family forces couples to confront just how not ready they are for "meet the parents." Or perhaps returning to hometowns (and old flames) makes people question their current significant others. 
Either way, dating sites have reported a jump in sign-ups in December, and Facebook data shows breakups rise around mid-November (the infamous "turkey drop") and peak two weeks before Christmas. Take heart, aggravated singles.
Also, Facebook seems to really like engagement photos. We can't confirm that the site's magical News Feed algorithm (the one that keeps insisting that you do, in fact, want to know the goings-on of your camp counselor and that kid from middle school) favors photos of proposals and engagement rings. (We've reached out to Facebook for comment.) 
But what does seem clear is that your News Feed likes posts that other people have "liked" — as one Atlantic writer found, a personal status update that garners tons of "likes" and comments can drive it up to the top of everyone else's feeds. Some even surmise that using the word "congratulations" in a post will push it up the NewsFeed.
Either way, the season seems to be unstoppable. And while some people may be bitter or cynical ...
... cheer up: January is going to be open season for singles.