Facebook Apologizes for Making Users Relive a Horrible Year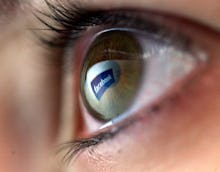 For most Facebook users, the annual Year in Review feature is a harmless trip down memory lane, a mesmerizing collection of photos from the most significant moments of a user's year, like engagements, fantastic vacations and happy moments with friends and family. 
But for some, that trip has turned into a nightmare of enormous proportions: Due to the indiscriminate nature of the feature's algorithm, a few people were actually presented with photos of the worst parts of their year.
Eric Meyer, a website design consultant and writer, was one such case. In a blog post titled "Inadvertent Algorithmic Cruelty," Meyer detailed the pain Facebook mistakenly heaped on him when it included a photo of his 6-year-old daughter Rebecca, who passed away earlier this year from brain cancer, in his Year in Review.
"Yes, my year looked like that," he wrote. "True enough. My year looked like the now-absent face of my little girl. It was still unkind to remind me so forcefully." 
He acknowledged that while it wasn't deliberate, it was still unimaginably hurtful:
"I know, of course, that this is not a deliberate assault. This inadvertent algorithmic cruelty is the result of code that works in the overwhelming majority of cases, reminding people of the awesomeness of their years, showing them selfies at a party or whale spouts from sailing boats or the marina outside their vacation house.
He wasn't the only one. Many other Facebook users posted about their own unfortunate encounters: 
Facebook apologized. In a subsequent blog post, Meyer revealed that Jonathan Gheller, product manager of the Year in Review team, had sent him a "sincerely apologetic" email and promised to do better in the future. 
"[The app] was awesome for a lot of people, but clearly in this case we brought him grief rather than joy," Gheller told the Washington Post. "We can do better. I'm very grateful he took the time in his grief to write the blog post."
The number of interactions a photo gets on Facebook is a strong factor in whether it gets included in the feature, Gheller said. But as Andrea Peterson at the Washington Post points out, "Algorithms and code aren't intelligent, they just do what they're told. So unless the programmers consider and plan for the worst-case scenarios, there will be edge cases where the general approach fails."
The Year in Review snafu is an unfortunate reminder of the unexpected ways in which algorithms shape our lives — and how much further we still have to go when it comes to perfecting them. As Meyer wrote in his follow-up post, "It will take time, practice and a whole lot of stumbling to figure out how to do better. But it is, I submit, vitally important that we do."
h/t Washington Post