The New Remix of Beyoncé's '7/11' Is the Perfect Turn-Up Song This New Year's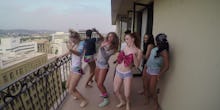 While most of America listened to the last few spins of their favorite sickly sweet Christmas carols, DJs Diplo and Skrillex cooked up something devilish. 
On Saturday, the electronic music partnership released a remix of Beyoncé's "7/11" just in time for the new year. It's the kind of song that makes you want to throw a tankard of egg nog through a window, and it will undoubtedly be the go-to turn-up song of New Year's Eve.
Beyoncé's "7/11" was already club-ready, with some well-placed bass drops and catchy dance floor-friendly lyrics. But Diplo and Skrillex took the track to a new level: The beat is now significantly faster and the drops are twice as heavy, embellished with warped-out cowbells and distorted vocal samples.
Diplo and Skrillex released the remix under the name Jack Ü through their new website. The two DJs performed together under that moniker at the Mad Decent Block Party in San Diego in 2013, and again at this year's Miami's Ultra Music Festival and Burning Man. A New Year's performance at Madison Square Garden will be Jack Ü's biggest to date. 
The duo teased listeners with the prospect of a full collaborative project earlier this year, but nothing had surfaced. With this remix and new site, it looks like we may get that full project after all. Keep an eye out for it and ring in the new year right with this near-perfect headbanging and ass-slapping 'Yoncé anthem.
r/t Rolling Stone