The Internet Is Calling Out Iggy Azalea's Complete Lack of Talent in the Best Way Possible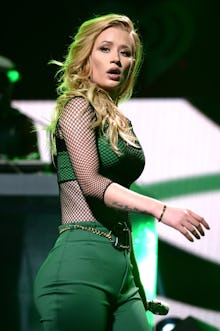 Iggy Azalea might be the last joke of 2014.
Azalea already faced some backlash from the hip-hop community when Azealia Banks slammed her for ignoring black issues. But now the ire of the Internet has turned against the Australian-born rapper for what appears to be some less than creative musical work. And they're doing it in a hilarious way.
In a recently unearthed video from 2013, Azalea stopped by the Sway in the Morning radio show to spit some rhymes. But when host Sway asked her to freestyle, she said she couldn't rap anything to the "hood ass beat" provided and opted to do some a cappella. There's only one problem: What she sang turned out to be a cut from her track "New Bitch" that had already been recorded. 
Unsurprisingly, a lot of people noticed Azalea's recycling and her inability to perform on the spot, something that's expected of most talented rappers. The look on her face when asked to freestyle? The kind of look when your mom asks if you took out the trash and you haven't. Essentially, "Oh shit." 
Of course, the Internet didn't stop there. Using the Sway in the Morning appearance as source content, people have created what is possibly the last meme of 2014: "Iggy freestyle."
Azalea has been stealing beats and black culture for a while now, so it's about time her theft is being spun for humor. Contributors to the meme outbreak are mixing the embarrassment with widely known song lyrics or sayings, continuing her plundering of material.
Tumblr users have even edited the freestyling clip to feature Azalea rapping the Pokerap and the tune from Education Connection commercials.
Looking past the laughs, there's a genuine critique to this. Azalea has found fame by stealing pieces of black culture, including hip-hop and rap. She puts a generic spin on others' work and serves it to the white masses, which earned her a Grammy nomination for a Best Rap Album (a questionable move considering her blatant appropriation). And as Banks has pointed out, Azalea hasn't used her visibility to bring to light the race issues that have plagued the country as of late. 
Is this the start to the fall of Iggy Azalea's regime? It's unclear. But if she continues to exploit an art form that has meant so much for a disenfranchised community, let's hope that the crumbling goes on.