WHO: More Than 20,000 Infected With Ebola Worldwide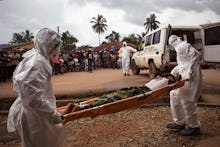 The World Health Organization announced Monday that the number of people infected by Ebola in Sierra Leone, Liberia and Guinea has passed 20,000, with more than 7,842 deaths in the epidemic so far, Reuters reports.
Cumulative case numbers in those three countries, which are the worst affected by West Africa's deadly outbreak, stood at 20,081. More than a third are laboratory-confirmed cases in Sierra Leone, which has become the worst-hit country in the worst outbreak of the disease on record.