Why You Shouldn't Freak Out About the AirAsia Disappearance, in One Chart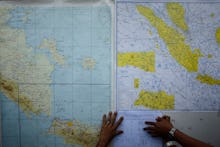 For the casual observer, 2014 seems like a horrendously shitty year for air travel.
"[ASN data shows that] there have been a total of 20 fatal airliner accidents this year — the lowest since ASN's records start in 1942," the Washington Post reports. While this data only includes commercial airliners with more than 14 passengers, the Post's Christopher Ingraham notes that "a larger database maintained by the Bureau of Aircraft Accidents Archives, which includes smaller flights, private aircraft and military planes, paints the exact same picture."
But while the number of air accidents were low, the Aviation Safety Network data shows that fatalities spiked in 2014.
Per the Aviation Safety Network, there have been 1,007 deaths for 2014 so far, a figure which includes only major commercial airliner accidents. The Washington Post notes that this elevated number is due to the AirAsia flight and the two Malaysia Air flights accounting for over half of those fatalities, with 699 deaths between them.
Editor's Note: Feb. 25, 2015
An earlier version of this article cited reporting from the Washington Post, but did not include quotations around the cited passage. The story has been updated to fully attribute the Washington Post's language.